Category: Completed
03-02-2023
Hamburg Messe und Congress GmbH planned to purchase a new mobile telescopic grandstandsystem for multifunctional use of the exhibition halls. The grandstand was to be able to be used in different assembly variants and in the different halls of the site. Due to our experience in this segment we were awarded the contract for planning, tendering and object supervision of the measure in February 2021 .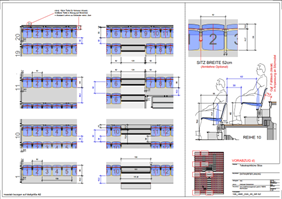 In the course of the coordination process, the decision was made in favor of a basic grandstand block with 20 rows, 14 m width and access via mouth hole. In variants of the base block, grandstand sections can be released and positioned separately, and the blocks can be set up in rows or individually. After tendering and later awarding the contract to the company carrying out the work, it was possible to come under budget.
After two month of construction, with almost daily monitoring by our team, and the delayed commissioning with trial operation, the grandstandsystem was handed over to the client in December 2022. Until February 2023, the facility was technically optimized in parts without any costs for the client.
With ~ 4,500 seats, we were able to help realize the third largest telescopic grandstandsystem in our company history here. All deadlines and costs were met.